I want to make my K9 completely remote controlled but I have some questions...
Ok so I'm a complete novice/newbie in regards to making something Remote controlled, yes Ive played with RC vehicles and added and taken bits away but never built from scratch.
First thing Ive thought about was just putting a large RC vehicle inside and using that BUT I'd kinda thinking that it would be better if I was to learn how to do this for future projects also.
So, heres what I have managed to acquire so far.
Ive ordered 2 of these motors: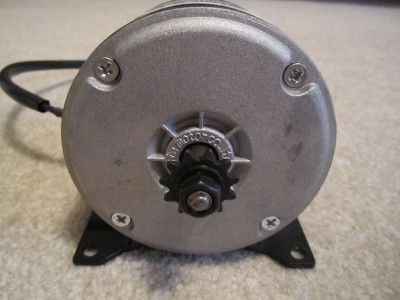 280 Watt
24 Volt
2750 RPM
Rated Current: 15.4 Amps
11 tooth sprocket
Bracket Hole Spacing (left to right): 96mm (3-¾")
Bracket Hole spacing (front to back): 43mm (1-¾")
Overall Length: 101.6mm
Overall Width: 90mm
Overall Height: 76mm
Shaft Length OA: 1 inch
From reading other posts this should be more than enough PLUS it can run on 12v (right?) What I would like to do is perhaps attach the wheel directly to the motor as seen in other builds.
what wheels should I be looking for? Ive seen people use large electric wheel chair wheels but also small rubber wheel, I like the idea of the smaller wheels but want it to be able to travel over rough surfaces with no problems.
I was also told I would need a speed control so I found and bought this:
Control the speed of a DC motor with this controller
High efficiency, high torque, low heat generating
With reverse polarity protection, high current protection
Working Voltage: DC 12V - DC 40V
Control Power: 0.01 - 400W
Static Current: 0.02 A ( Standby )
PWM Duty Cycle: 10% -100%
PWM Frequency: 13 KHz
Size (L x W x H ): Approx. 73 x 60 x 27 mm
Knob Diameter: Approx. 13.5 mm
Material: Plastic, metal
Will this do the trick?
Also told I need a power distribution panel, not really sure what Im looking for there.
As for making this RC, Ive found a few 3ch and 4ch transmitters and receivers but not sure if thats what I need, how would I wire this all up?
I do have a FUTABA Skysports 4 remote and the FUTABA FP-R127DF 7 CHANNEL DUAL CONVERSION RECIEVER, will this work? I know its for aircraft but I just dont know if this is going to be what I need. Also, how would I connect the motors to the 3 pin receiver?
The receiver is powered by 6V but the motors need at least 12V is it just one of the three pins that is essentially the on/off switch, while the others are power to servos?
Also, and again so sorry for all the questions, but if both motors are controlled by the speed controller than how does K9 turn?
I feel that I may have botched the setup a bit so any help would be really great right now!
Thanks for your time
Paul